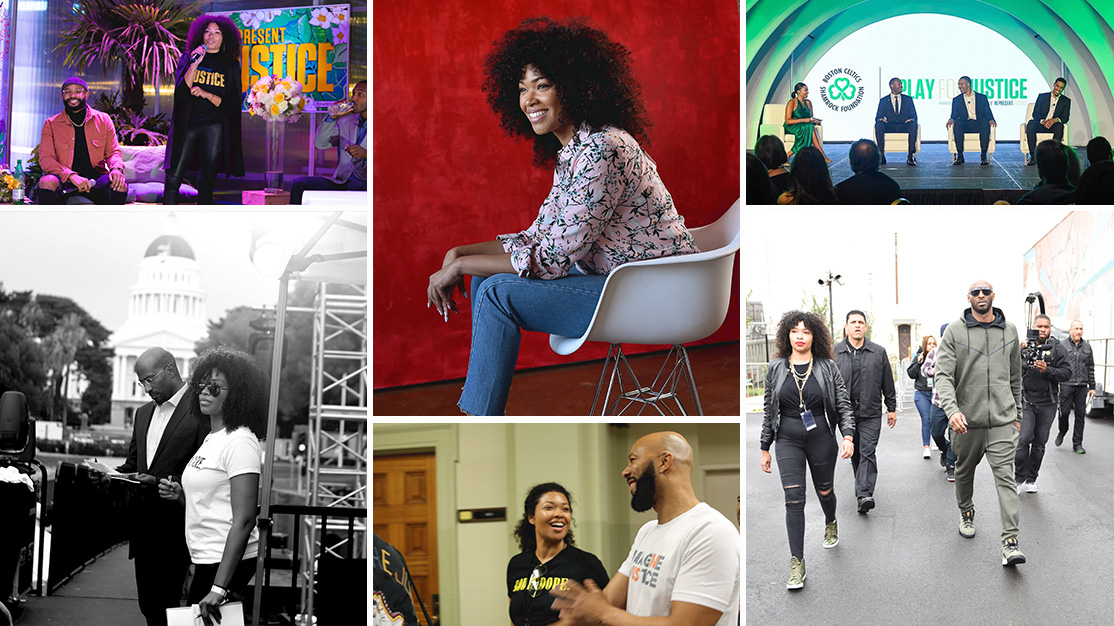 KRISTEN RENEE INGRAM is an accomplished and award-winning CEO & Executive Producer at PLUS ONE society, a distinguished social impact agency owned by a Black woman. Her expertise lies in comprehensive brand, marketing, campaign, and event strategies that uplift positive narratives and authentic solutions to pressing social justice issues. 
Prior to founding PLUS ONE, Kristen served as the Head of Affiliate Marketing for NFL Media, where she played a pivotal role in managing the brand integrity of the NFL across North America and Canada through platforms such as NFL Network and NFL RedZone. In this capacity, she oversaw the development of creative campaigns, strategic partnerships, and immersive experiential events for all NFL calendar initiatives, including Super Bowl. Leveraging her exceptional interpersonal skills and extensive industry connections, Kristen excelled in negotiating and executing strategic partnerships that yielded substantial media value, amounting to an impressive $40M annually. These partnerships not only generated additional revenue opportunities for current and former players but also bolstered the overall growth and impact of the NFL brand. Kristen's ability to forge mutually beneficial relationships played a key role in elevating the league's reach and influence within the sports and entertainment industry.
During her six-season tenure at the NFL, Kristen leveraged her leadership role to advocate for Diversity & Inclusion and Social Responsibility. Her community service initiatives, which remain in place today, earned recognition from NFL Commissioner Roger Goodell.
Driven by the transformative power of sports and its ability to foster connections across cultures and inspire progressive action, Kristen founded PLUS ONE in 2017. Her primary objective was to directly uplift and amplify social justice movements that bring about positive change within our communities. Today, she is widely regarded as one of the leading producers of social justice brands, campaigns and events in the country.
In the midst of the global pandemic, racial uprising, and pervasive injustice in 2020 and 2021, Kristen demonstrated exceptional leadership in advancing her clients' and partners' shared goals for social impact. Her unwavering commitment led to two of the most successful police reform years since the inception of PLUS ONE. Notable accomplishments include effectuating major policy reforms and raising over $750K in CA and OH (e.g. Prop 17, Prop 20, AB 376, and SB 13). Kristen also played a role in the election of Los Angeles District Attorney George Gascon, who announced sweeping Criminal Justice Policy Reform plans, and she advanced aggressive Criminal Justice Reform plans in Wisconsin.  
In 2019, Kristen partnered with Good Films Impact to oversee production on all sports and music programs and events for REPRESENT JUSTICE – a social impact campaign launched alongside Warner Bros.' theatrical release of JUST MERCY, featuring Michael B. Jordan, Brie Larson, and Jamie Foxx. The campaign drew inspiration from the true story of Bryan Stevenson, founder and Executive Director of the Equal Justice Initiative.
In 2018, Kristen collaborated with IMAGINE JUSTICE to lead the production of the  HOPE & REDEMPTION PRISON TOUR – an extraordinary series of live concerts held in various correctional facilities. The tour, featuring Common and a special guest appearance by Talib Kweli, brought hope to over 5,000 incarcerated men and women in California's Central Valley, inspiring countless youths in the surrounding communities most affected by mass incarceration. The tour's success hardened national attention, including a feature in Rolling Stone. 
In 2017, Kristen spearheaded the historic production of  IMAGINE JUSTICE alongside Common and J. Cole on the steps of the California state Capitol in Sacramento. As a result of this impactful event, four criminal justice reform bills were passed and signed into law, including the abolition of the cash bail system.
Furthermore, Kristen serves as an Executive alongside Grammy Award-Winning Producer Greg Wells and Academy Award-Winning Artist Common, working closely with four formerly incarcerated artists (Bobby Gonz, Maserati E, Richie Reseda, and David Jassey) to create an exceptional album that amplifies the voices of incarcerated artists – a truly unique endeavor.
Recognized as a community leader, Kristen is deeply committed to service. She currently serves on the Board of the Anti-Recidivism Coalition and actively contributes to the Los Angeles Mission and Jenesse Center.